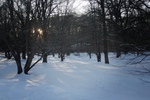 * Today's Quotation *
All I know to do is to light the candle that has been given to me.
~Fred Rogers a.k.a. "Mister Rogers"
Happy Solstice to all who are reading this! I wish everyone a peaceful, loving holiday season.
---
A Merry Christmas and a Happy New Year to you and yours Lisa.
If this is shot this year you sure got more snow than we do..

Posted by Jean Simard at December 21, 2014 12:28 PM
---