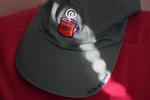 Camera Data
Canon EOS Digital Rebel | EF 50mm f/1.8 II
10/26/04 | 1/13 sec. | f/1.8 | ISO 100
This photo has been submitted for the Photo Friday challenge: Statement [22 October, 2004]
Not only do I wear many hats in the figurative sense, but I also have quite a collection of them. This one has been my favorite for quite some time. mmmmm...coffffeeee...
This photo has been submitted for the Photo Friday challenge: Statement [22 October, 2004]
---
Life certainly is good my friend.. :) I don't drink coffee.. but even still.. I wish you would've used a bit narrower aperture to get the slogan a bit more in focus, because the light ray on the word "good" and the coffee cup are so nice in line within the light.. in any case.. nice shot.
Posted by miklos at October 27, 2004 9:01 AM
coffee is definitely the light in my day, a warm steamed cup of perking vanilla shot latte dreams of warmth ...
I quite like this shot of steam : )
Posted by daisies at October 27, 2004 8:54 PM